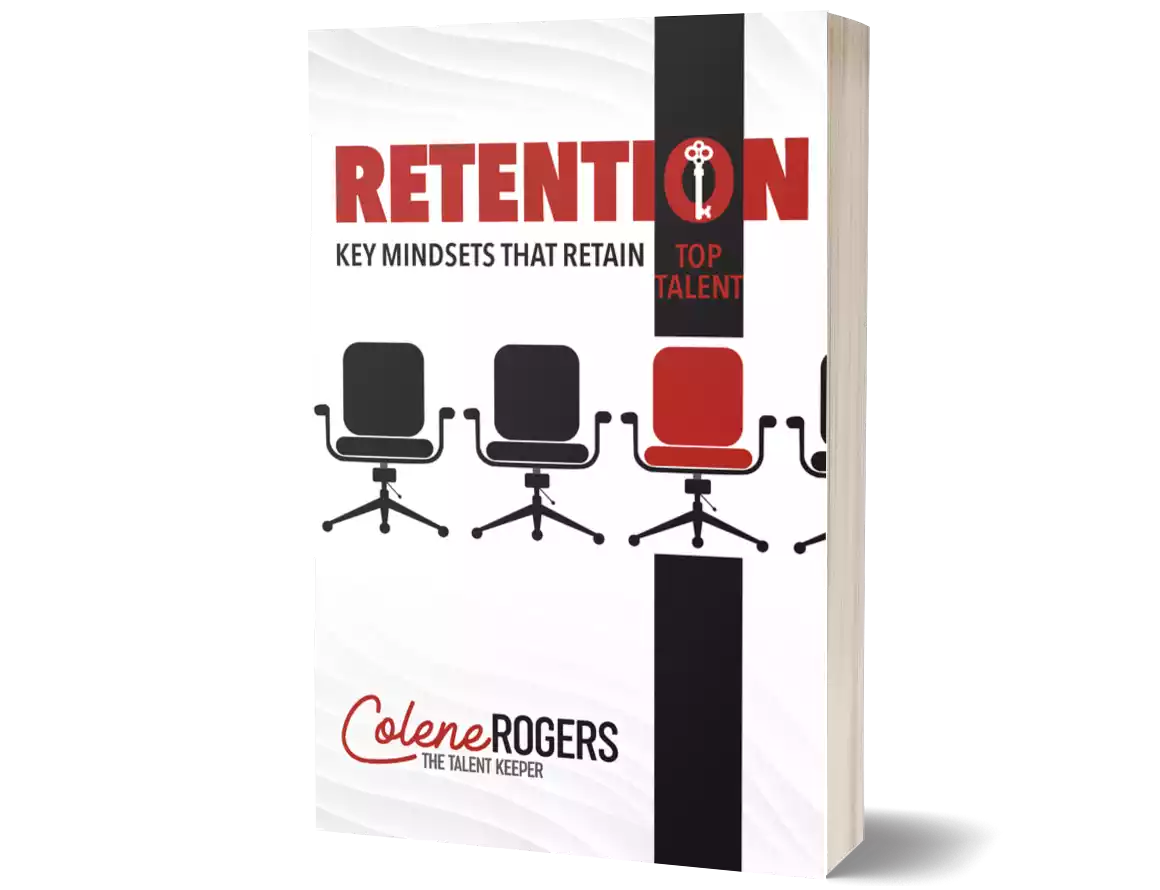 Learn how Retention Architecture relieves your organization from the frustrations of endless hiring, training and turnover costs.
"Retention: Key Mindsets That Retain Top Talent presents a unique and brilliant perspective on organizational culture and how it drives retention. Seldom have I seen such clarity around the employee experience and such a powerful solution to the retention problem. Bravo, Colene!"
Steve Lowell, CSP
Author "Deep Thought Strategy"
Vice-President, Global Speakers Federation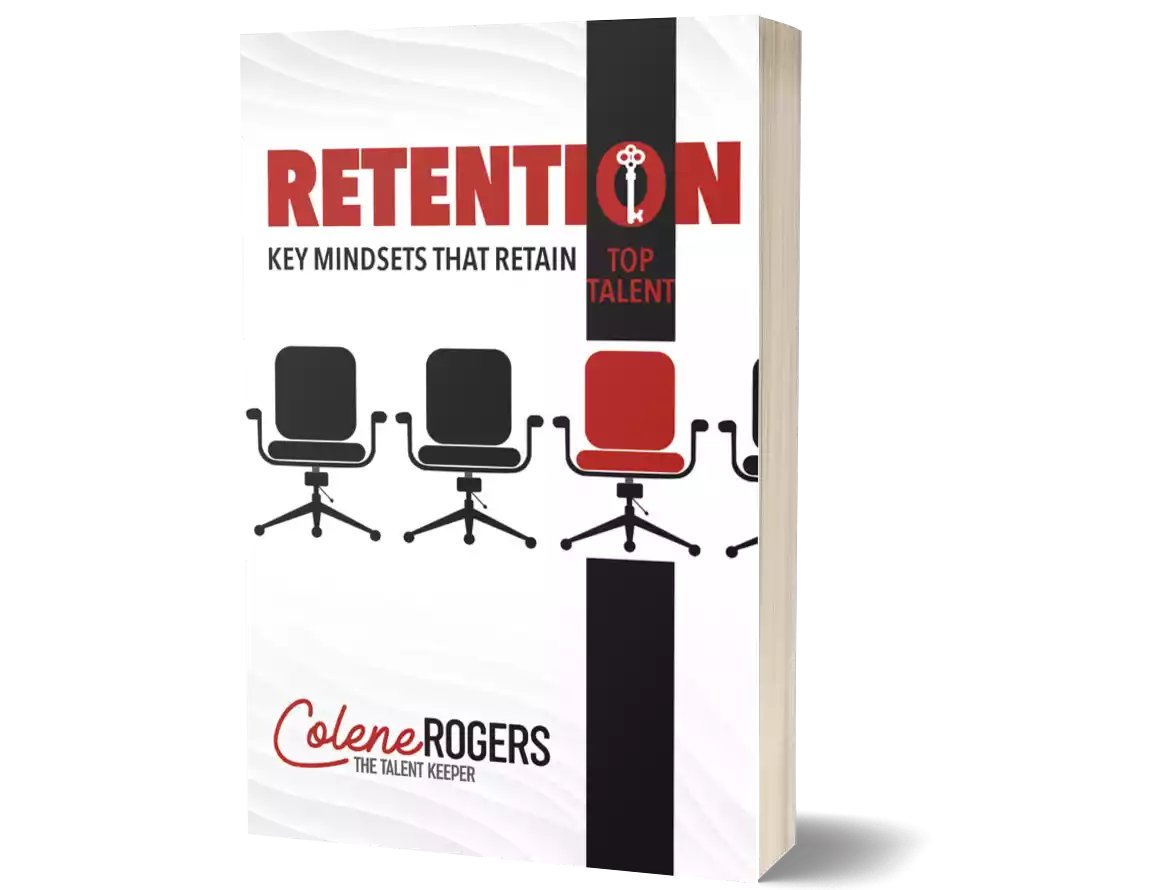 Successful employers must have a laser-like focus on attracting and retaining exceptional employees. To run a successful enterprise, be it a non-profit charity, an educational entity, or a business, you have to provide a great product or service that people want. And to do that, you have to have great employees who buy into your values, your mission, your corporate culture. This book will provide you with practical, proven, easy-to-implement practices and strategies to help you improve employee satisfaction which leads to higher productivity, lower turnover and a stronger bottom line!
Discover the four mindsets that employees have about where they work: Insignificant, Temporary, Exclusive, and Career Company. Then learn how to create a culture that moves your employees to think of your organization in the top mindset – A Career Company! The secret is employee engagement. Get ready to create an effective Retention Architecture that includes a top talent acquisition plan, a leadership development plan…and more. Get ready to grow into a company employees love to work for…one that Achieves, Acquires, and Keep Top Talent!
Get a Free Sample Chapter
"The ability to acquire and retain talent is not just one issue among many that organizations must deal with, it is the issue!"

"Colene's book is a must-read for employers and business owners who know they need help attracting and retaining today's workforce. This book focuses on taking your company to a career company; that rarefied air where every Sunday night, your employees look forward to coming to work. After reading this, you will invest time and energy in your employees and be rewarded with a happy workplace and increased profitably."
Tony Moore
SHRM -SCP, SPHR,
Speaker, Author and Culture Architect
"If you are a business leader who recognizes that your long-term success is directly linked to your ability to attract, equip, and most importantly retain your best and brightest, then Colene's book is for you. Highlighting the mutuality between employer and employee in all retention efforts, Colene has provided an engaging and practical guide that is the perfect balance of research, story-telling, and actionable content. This is a must read for all leaders!"
Roger Lear
President at OrlandoJobs.com
Co-Founder GreatInsuranceJobs.com
Pres. Lear & Assoc.
"These are challenging times, making thoughtful leadership paramount to successful business productivity and growth. Retention is an excellent guide, providing practical counsel for innovative leaders committed to developing a productive work culture and helping people achieve goals in work — and in life."
Diane McCain
Director of External Relations
Board of Governors
State University System of Florida
"As an HR professional and former recruiter, Colene Rogers knows what companies must do to attract employees and, more importantly, how to keep them. Her insight into the 4 mindsets that employees operate from is very beneficial for any employer who wants to keep their most talented leaders and employees. A fresh and interesting take on a very important topic!"
John Petz CSP
Motivation Keynote Speaker
and Conference Emcee
"This is a must read for any manager or leader! Tales from the field, across multiple time periods and industries, make the insights in this book relatable and memorable. Everyone should aspire for their employees to take ownership of their jobs and Colene provides an easy to follow roadmap to turn your organization into the pinnacle 'Career Company'"
Heather "HD" Deyrieux, MSM, SHRM-SCP, SPHR
President
HR Florida State Council, Inc.
"Without a doubt Colene is an inspirational and knowledgeable expert on talent acquisition and talent management including leadership, conflict management and best practices for supervisors. In her book Retention, Colene makes the case that employees who feel valued are less likely to quit and brings home the point that great leadership and the way you treat employees goes a long way towards preventing lawsuits. I highly recommend Retention and working with Colene Rogers."
Scott Callen
Partner
The Kullman Firm
Labor and Employment Law
"Retention is spot on and reflects unique and well-thought-out solutions to finding, engaging and retaining talent. I highly recommend reading and implementing the advice given within. This message is consistent with our experience. The real value is working with Colene, as we have, to help identify, tease out the tough issues and incorporate the change necessary. Her touch and wisdom benefits the entire organization while coaching our managers responsible for leading our team. It's done on a continuum one opportunity to grow at a time."
Denver J. Stutler, Jr.
Chief Executive Officer
US Submergent Technologies
"Colene Rogers takes us on a journey that opens your eyes to not only the high cost of turnover and the lost opportunity cost of resources expended hiring replacement staff, but the intrinsic value of identifying, grooming, and cultivating top talent to remain with the company, realizing and recognizing each team member's value. Colene effectively and creatively drives home the point that retention and cultivation of top talent is essential to long term success in business. Retention is truly one of the best books on human capital I have read in my 20+ year career as a leader and manager.'
Terry L. Hill
Division Director at The Florida Bar,
President-elect: National Association of Bar Execs (NABE)
President FSUCollege of Law Alumni Board of Directors.
"Retention: Key Mindsets That Retain Top Talent is a must read and will make you think differently about how you handle your recruitment and retention processes. Colene does an amazing job outlining the four mindsets of the employee life-cycle. The lessons shared in this book challenges leaders at all levels to reflect on their past experiences, encourages goal setting and building trust and character. With the use of short stories and antidotes, readers are guided through the phases of the employees' mindsets and retention architecture. This book could not have come at a better time!"
Kara Palmer Smith
Senior Director, CareerSource Capital Region